On-demand business idea #1: home and cleaning services
When it comes to on demand business models or sharing economy models, there is no better industry than the home cleaning one. Many people find it easier to hire someone else to clean their homes. However, the costs of doing so can also be pretty prohibitive. So in order to circumvent that problem, many people are developing on demand business idea for home and cleaning services. These types of cleaning services are often cheaper because they cut away the expensive middle-man. In fact, you can see this advantage in many types of sharing economies.
On demand home cleaning services are just another step towards making industry more consumer-friendly. You have probably seen many people who are adopting this type of service to help them clean their own homes. Many people are calling on demand home cleaning services the user for house cleaning, or even an app for maids. And that is essentially true. With the tap of a button on your app, a customer can request a maid or cleaning staff to come to their homes and clean it. All in the space of a few minutes, payment is easy too because it is handled exclusively through the app.
Home and cleaning on demand business idea flagmans
On demand business idea of home cleaning services are just one type of on demand business model that has been growing in the past few years. You have probably heard of on demand business models for food delivery or even groceries, so it is not that far of a stretch to have an app for cleaning services. It is actually the natural progression of such a business model because it makes it easier for customers to find maids, and it also allows home cleaners to easily find their clients. So as you can see, this type of sharing economy model for an on demand business actually works well for both sides.
You may be wondering if there are certain types of on demand business that you can read about. There are actually many on demand businesses for home cleaning, and you will be glad to note that many of them have become successful. This is due in part because of the popularity of the on demand home cleaning services and also the many positive experiences that customers have with these business models. Here are some business models with on demand home cleaning services.
This is a recent startup that is geared towards home cleaning services. Its main goals are providing clients and users with an easier way to select and choose a reliable home cleaner. And it's another goal is for home cleaners to be able to get another way to expand their client base. So as you can see, it is a win-win for both sides of users with HUX.
Using HUX is pretty easy because, with it, you will be able to find the nearest available house cleaners in your area. And HUX itself personally checks on these house cleaners, so you know that all of the house cleaners that you can find on HUX are trustworthy and reliable.
Through HUX, a user who needs a house cleaner will be able to find a reliable one that is close by. And this also has another purpose of giving house cleaners, themselves, access to a wider market. This is because it makes it easier for people to find them if they ever need to hire a house cleaner. HUX is definitely one of the prime on demand home cleaning services right now.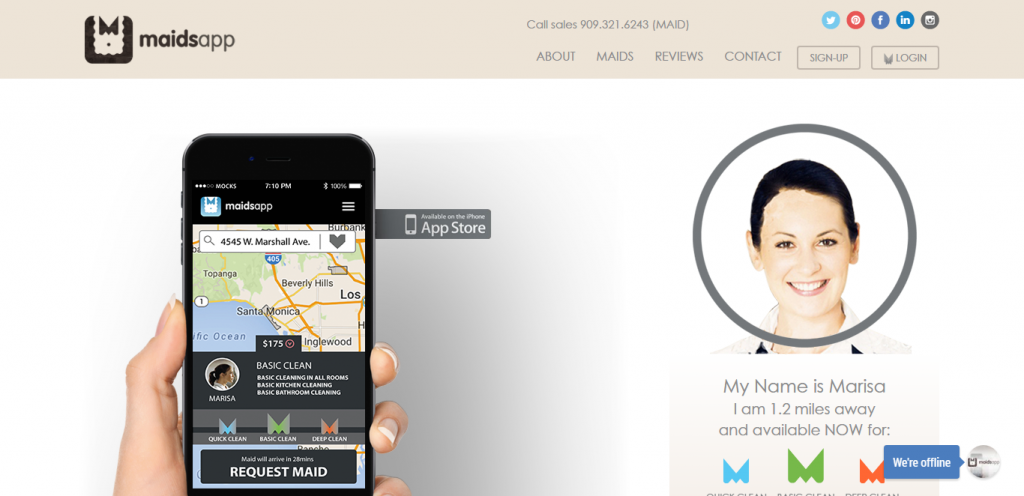 Often called the uber of maids, this is exactly what would be the perfect description for this on demand business. With MaidsApp, customers are able to send requests in the general area for people who are house cleaners. And then home cleaners or maids are able to respond to those requests depending on their availability and the type of cleaning service that is being requested. This is another on demand business model that makes it much easier for the average person to find a reliable home cleaning service provider.
MaidsApp does have a few downsides. It can be hard for new users to find a reliable maid. There is one method to doing so; maids can be reviewed, so a user can just check a maid's reviews if they need to see the history of that home cleaner.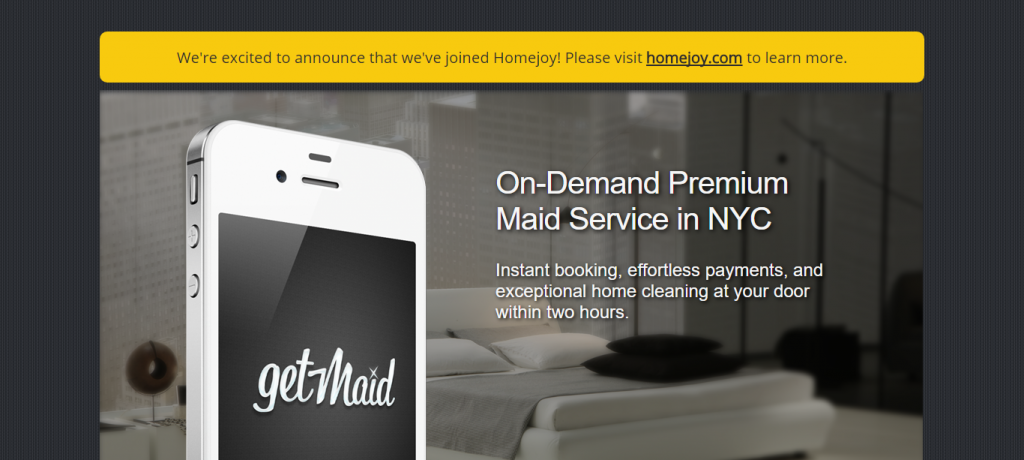 This is another on demand home cleaning app that seeks to provide an easy experience for users looking to find maids to clean their homes.
GetMaid works like any kind of traditional on demand app. Users send out requests for home cleaners, and then the app then lets home cleaners around know about that request. Maids can either choose to ignore or accept that request, based on the specifics of the job.
With many different kinds of business models that focus on on demand home cleaning services, it can be hard to stand out among the rest of the pack. However, there are a few things that you can do in order to ensure that your on demand home cleaning business does not tank. If you want your on demand home cleaning business model to be successful, here are a few important tips to follow.
Check the background of your home cleaners. It is important that you properly vet each and every one of the maids in your network, in order to avoid problems.
Provide a smooth and problem-free user experience. Users want to use an app that does not have any kind of problems. Try to devote resources to tracking down and eliminating any bugs.
Try to focus on a specific type of service. It may be tempting to expand into other services such as laundry cleaning; however, overextending your reach could be bad in general.
Fix any kind of bugs that many appear. Bugs can periodically appear from time to time, so in order to ensure that your user's experience is bug-free, be sure to have good developer support.
Focusing on the local area is a great idea. On demand home cleaning can start out small. Which means focusing on the local area is a good start for many on demand home cleaning services.
If you are a new person in on demand business niche, please read our article about sharing economy basics.